Arc Wood & Timbers provides reclaimed and premium woods to the high-end, custom residential building market. We offer a wide variety of products milled from reclaimed vintage structures, salvaged logs and sustainably harvested trees. Our extensive background and experience with antique and contemporary woods enables us to provide expertise and guidance throughout the life cycle of our clients' projects.
Please contact us to schedule an appointment.
Select Sinker Cypress
Milled from river recovered, old growth Cypress logs that have aged underwater for over a century. Finished material reveals stunning rich honeycomb golden and olive colors.
Reclaimed Douglas Fir
Refurbished beams from our northwestern rural and commercial landscape. These premium beams are distinguished by its rich, old world patina, tight grain, and structural integrity.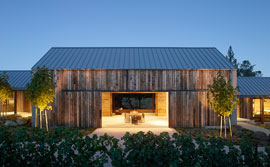 The Ridge Retreat
A dramatic mountain site high above the Napa Valley, with the highest quality of durability, size, sustainability, and aesthetic. Skilled craftsmanship showcasing a variety of premium woods including reclaimed Douglas Fir that wraps the interior and exterior envelope
  Rare and hard-to-get wood is our specialty

  We built our business on customer service

  Emphasize sustainability without sacrificing product quality

  Project management from pre-design through construction

  Dedicated resources for clients
  Long standing integrated supply chain of only the best artisans in the industry

  Always adapting to meet our clients' needs

  Focus on privacy and discretion

  We love what we do!